Good day, this is Toonation
If you haven't downloaded TOONA yet, please click on the link below to download TOONA
[ TOONA Download & Installation ]

After you've downloaded TOONA, a desktop shortcut will appear.
If you turn on TOONA while you stream, you'll be able to see all alerts at a glance.
*If you are streaming with more than 2 computers, please install TOONA on the computer that you will be broadcasting.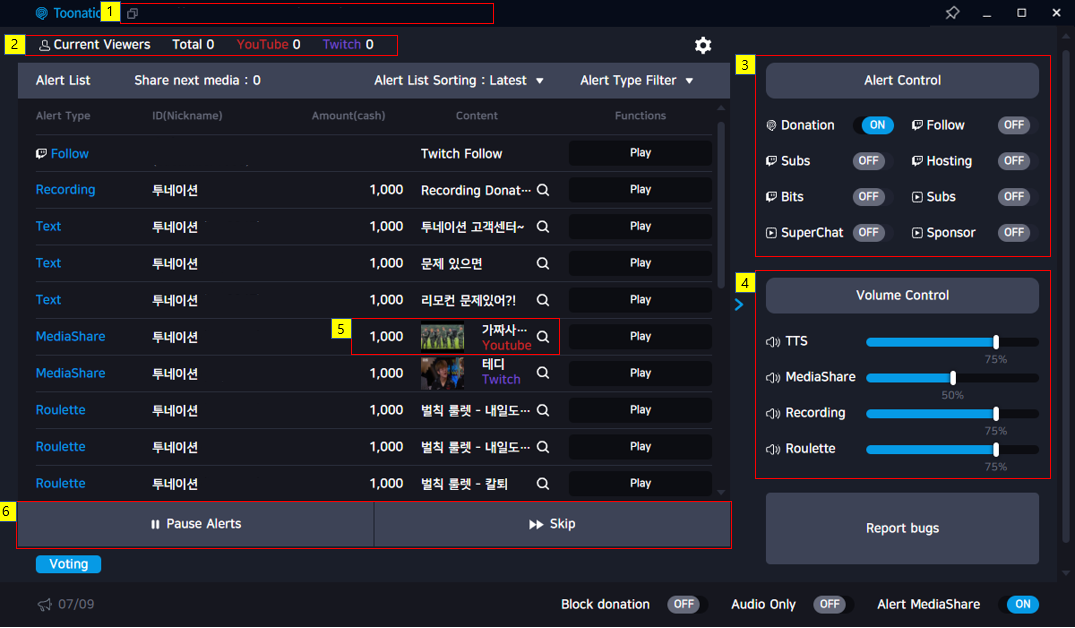 You can visit your Donation Page
You can check your viewer count
You can set certain Alerts to be on/off using Alert Control
You can control the volume level
You can see more information about the shared media. Clicking on the magnifying glass icon will display further information about the donation.
You can use pause alerts to temporarily pause incoming alerts, and use "Skip" to skip the current alert and play the next queued alert.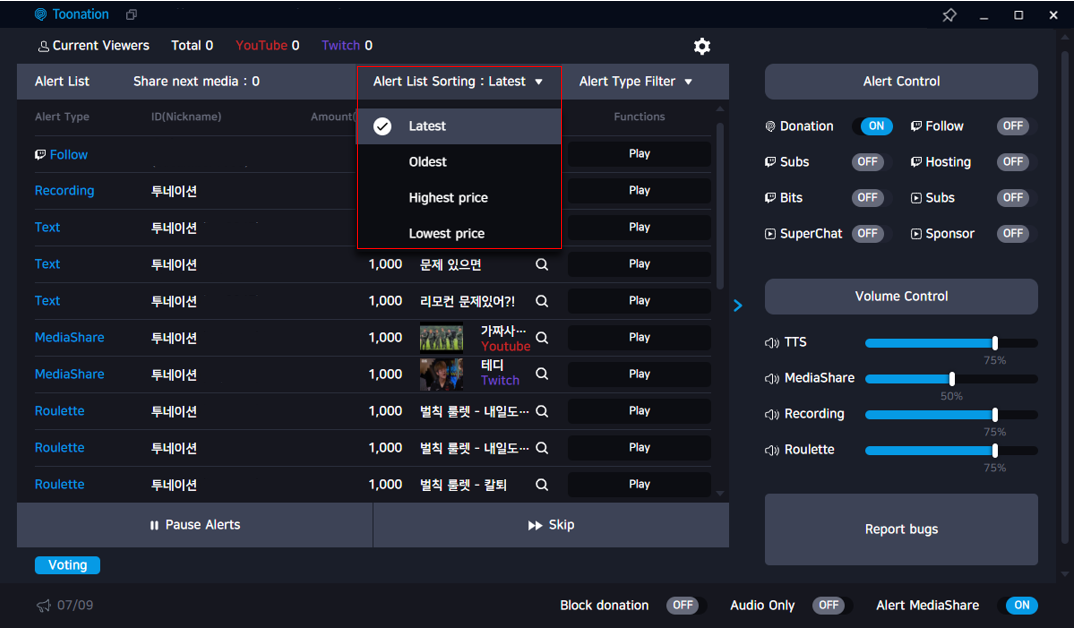 - Using Alert List Sorting, you can sort by various alert types:
⊙ Latest: Sorts by newest Alerts
⊙ Oldest: Sorts by oldest Alerts
⊙ Highest: Sorts by highest donation alerts
⊙ Lowest: Sorts by lowest donation alerts
- Alert Type Filter will allow you to customize your alert list by only displaying alerts that you check off.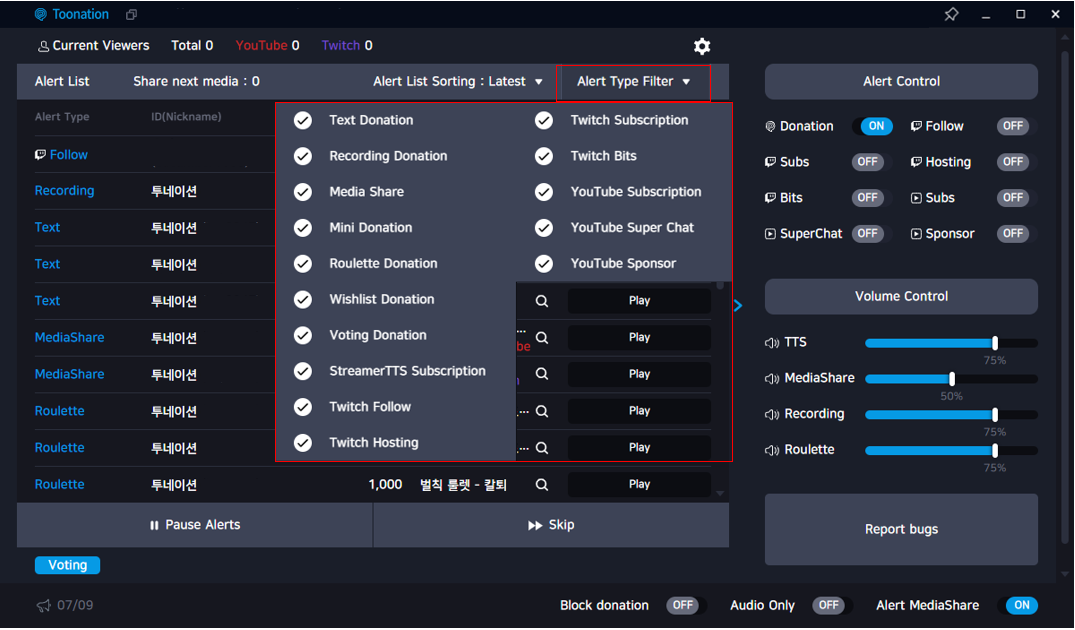 - The Gear Icon will allow you to manage your TOONA app settings
⊙ Viewers: Turning on viewers will display your viewer count on your TOONA main page
⊙ Show the Donation Block Button: This function allows you to immediately block donators.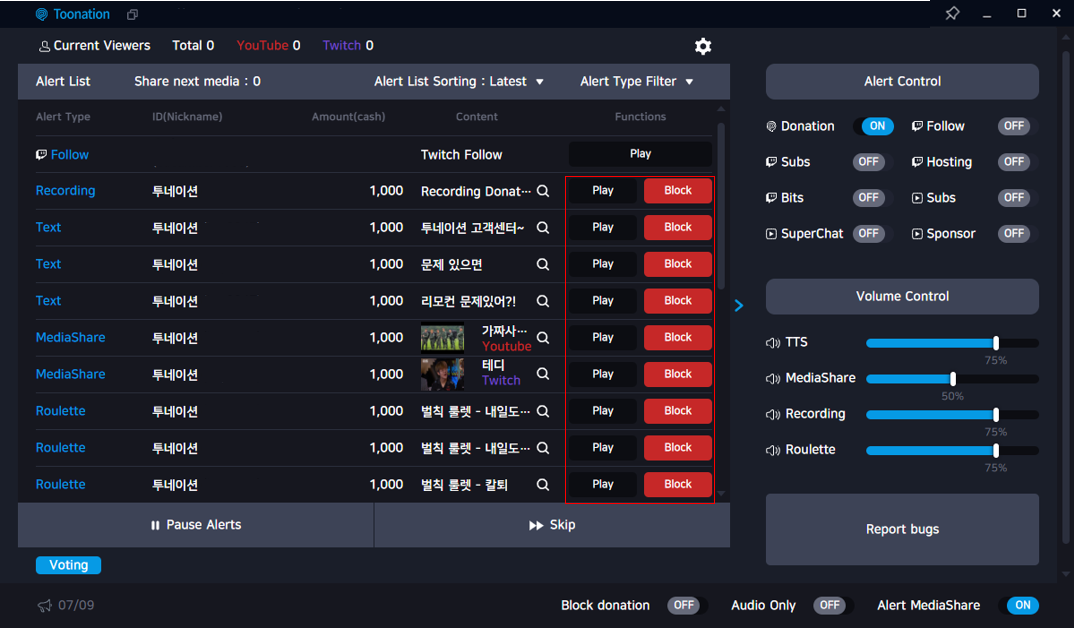 ⊙ Controller Theme : You can set to Dark/Light theme
⊙ Text size in Controller : You can control the text size within TOONA app.
⊙ Language: Change TOONA App language to Korean/English
* All other functions besides the ones listed above are identical to the web Remote Controller.