Hello. It's Toonation.
If you can't remember your Twitch Channel Address When you fill the Toonation Streamer donation Settlement Registraion, Please check the help below.
1. Visit Twtich ( https://twitch.tv ) and Login with your Twitch Account.
2. Click your Profile image.
3. Click "Channel" menu.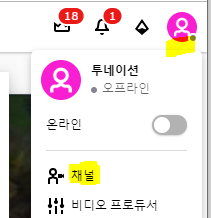 4.Check the broswer's Address bar and copy only your ID.
(https://twitch.tv/(Your ID)

5. Please return to Toonation Streamer Donation Settlement Registration and select "Twitch" on Usage Channel.
6.Please paste a copied ID in the blank box.